Large Cat Cave
Regular price
$91.00 USD
Sale price
$67.00 USD
Unit price
per
Share
Furbubba is an Australian-owned small business with eco-conscious products that are designed to be best for pet, best for parent and best for planet. 
✨ PREMIUM QUALITY: Furbubba cat cave is a premium product with extra thick felted wool construction, made as a single piece with no stitching or glue. The thickness means that it retains its shape, won't collapse, and is strong enough to withstand cat claws and their adorable kneading.

👐 HANDMADE: Individually handcrafted by female artisans in remote villages of Nepal.

🛌 COSY COMFORT: Use two ways. In winter cats love the luxurious hideaway and cosy warmth of our dome cave. It gives them a super snug sense of security with a peek-a-boo window to keep an eye on the rest of the family! And in summer, simply flatten it out so they can use it as a comfy nest. The felt is soft and calming.

🌎ECO-FRIENDLY: Made from sustainably sourced 100% Pure New Zealand wool which is naturally biodegradable and non-flammable. It is coloured using nontoxic, azo-free, hypoallergenic dyes. And our eco-friendly commitment extends to plastic-free packaging too.

🎨 MODERN DESIGN: Stunning, stylish, contemporary, minimalist design with your choice of two colours (neutral mottled brown or dark peppery grey) that will complement any home décor.

👭 SUPPORTING LOCAL COMMUNITIES: Made in partnership with a female-founded business that is committed to fair wages and safe working environments. Plus, the provision of training, skills development and sustainable employment that improves the lives of local household Nepalese women.

✅ CERTIFICATIONS: Fair Trade Certified and Good Weave International Certified (international initiative against child labour).

🧹 EASY CLEAN: Our customers love that this product retains its look over time with simple vacuuming and spot cleaning with a damp cloth.
🎉PLAYTIME BONUS: Frolicking felines! Buy one of our beautiful cat caves and unlock an additional 10% off one of our already discounted Cat Toys! (Discount will be applied at checkout once you have added the toys to your cart),
🚚  SHIPPING: FREE STANDARD SHIPPING included with all Cat Caves. Dispatch Monday - Friday. Orders received before 1pm are dispatched same day.
Please note:
This is a handmade product, our artisans handcraft every item, so please excuse any slight variations in the size and colours.
Dimensions

Height: 32cm ↕
Width: 50cm ↔️
Opening 20cm ↔
Care instructions

- Shake to remove dust particles
- Remove cat hair with a vacuum or a lint brush
- Spot clean with a damp cloth or a toothbrush
- If necessary, hand wash in cold water with a wool-safe detergent. Reshape and air dry.
- Do not machine wash
- Do not blow-dry or tumble dry
- Do not rub harshly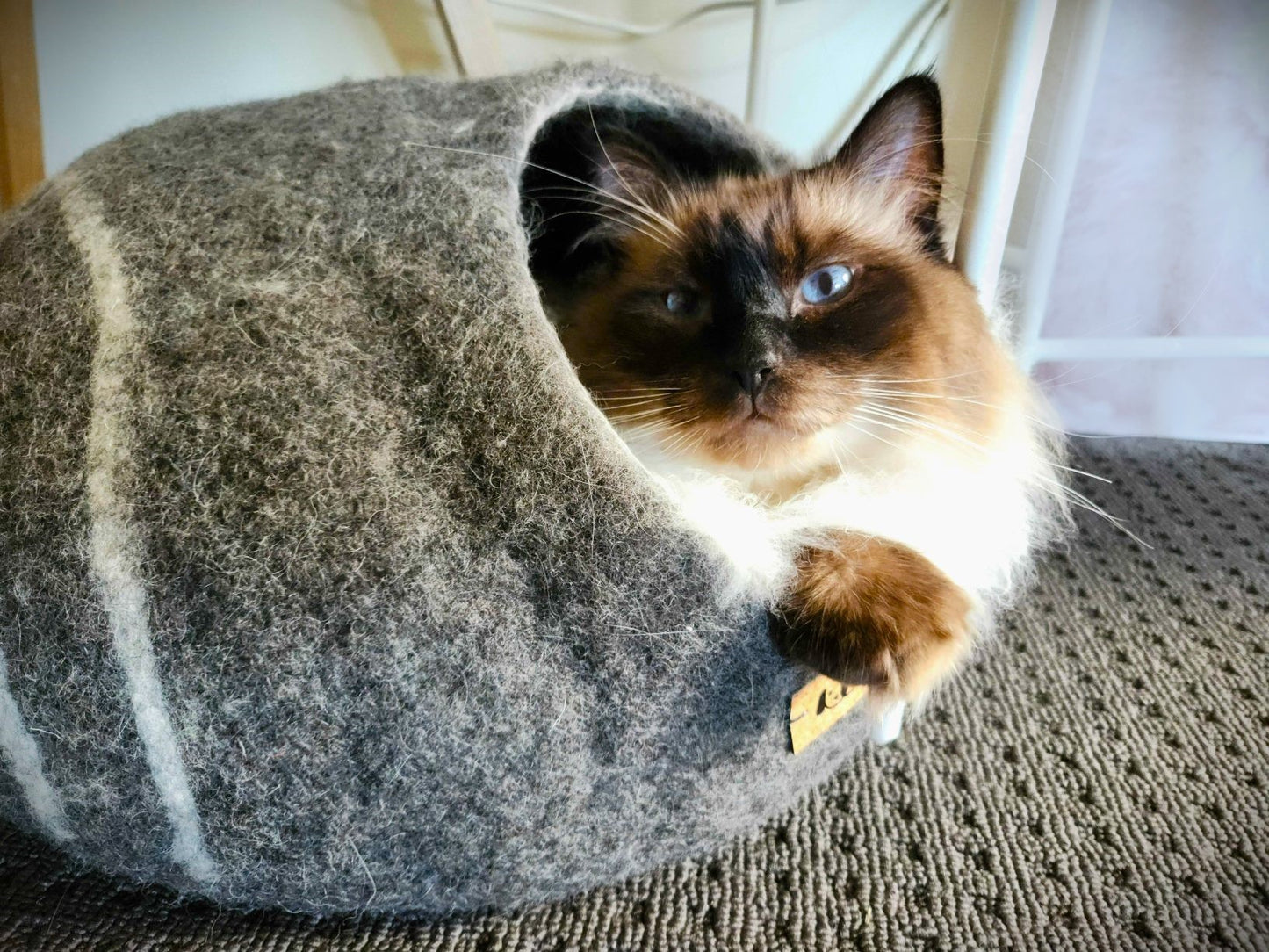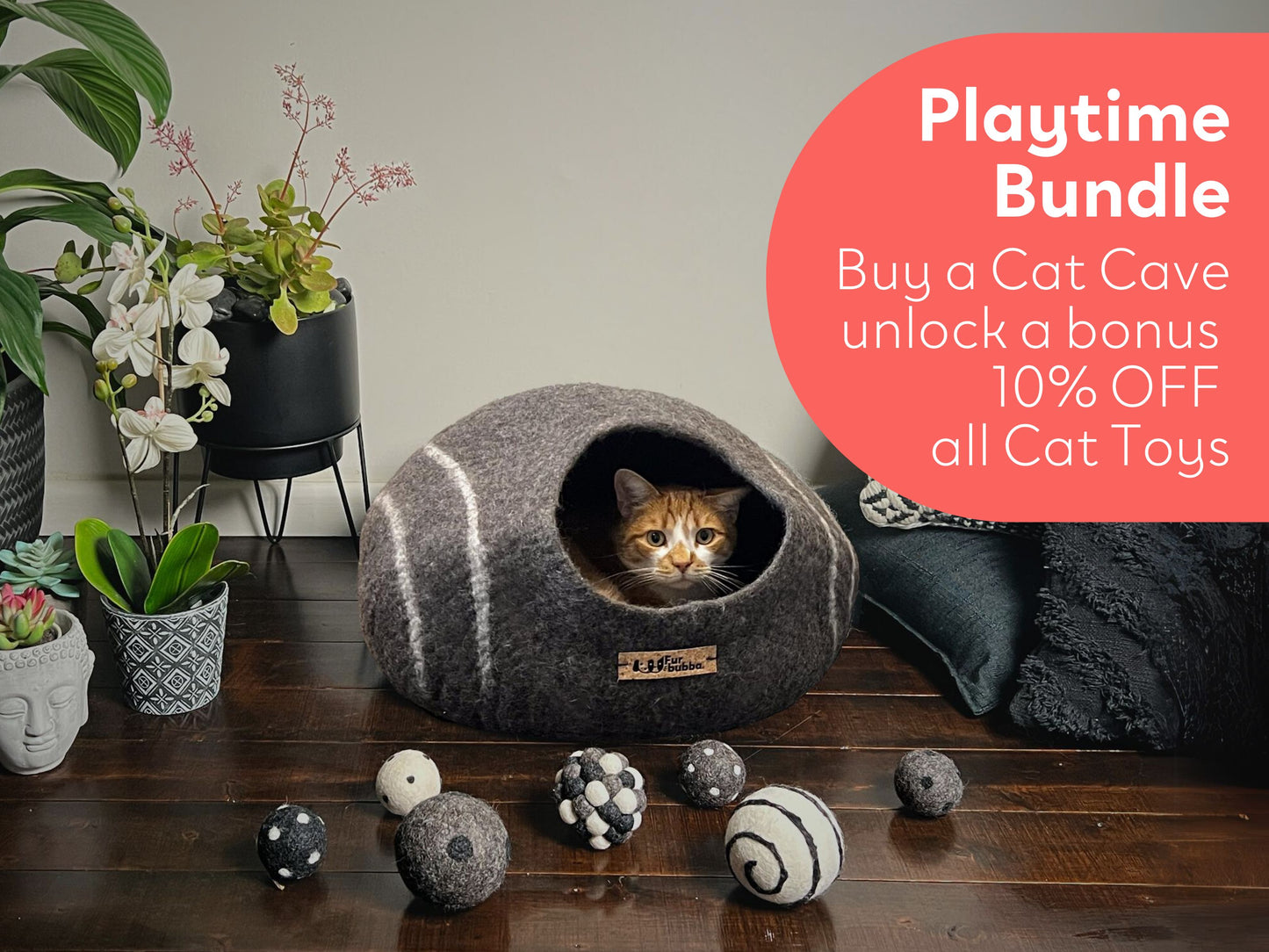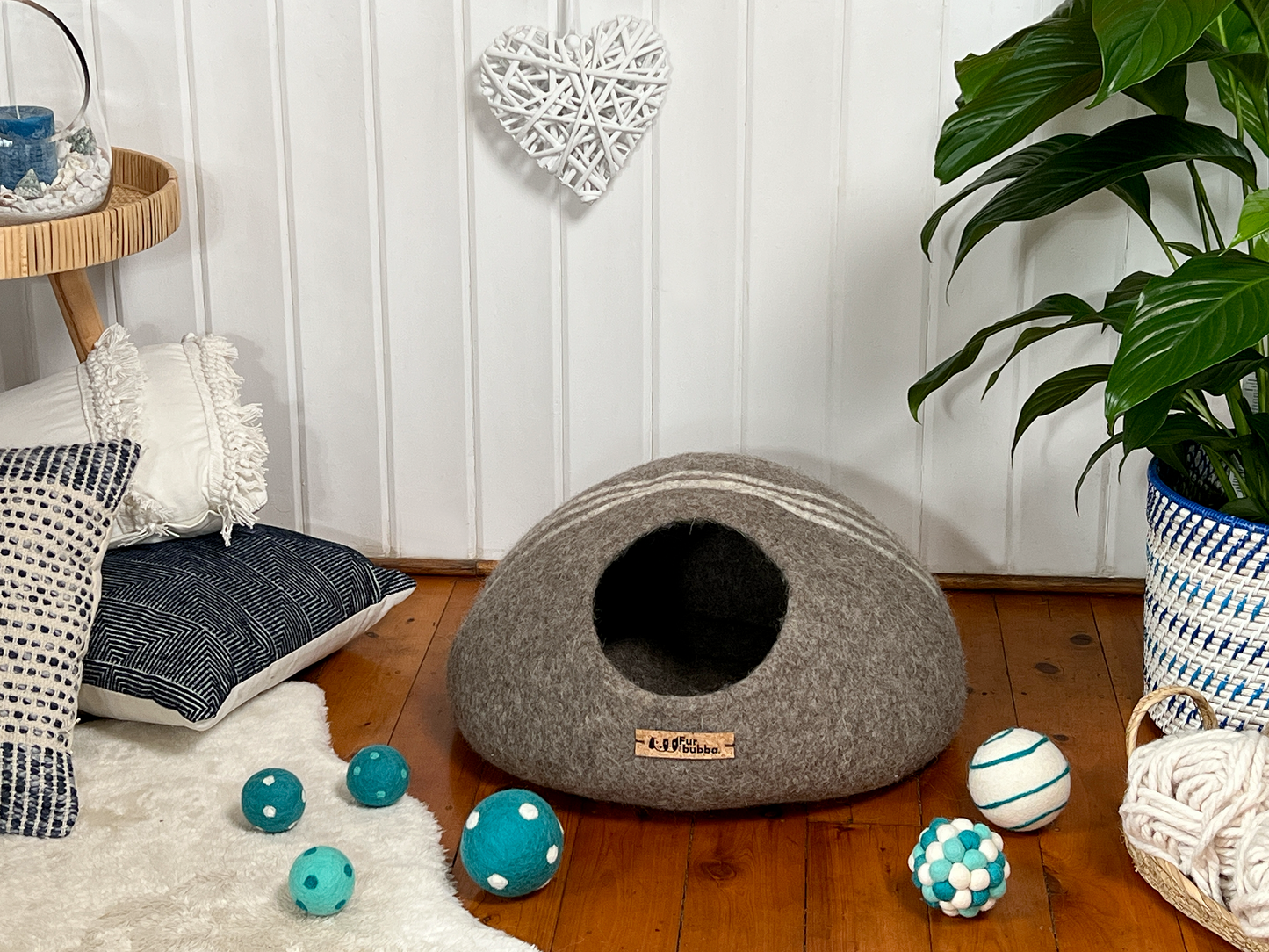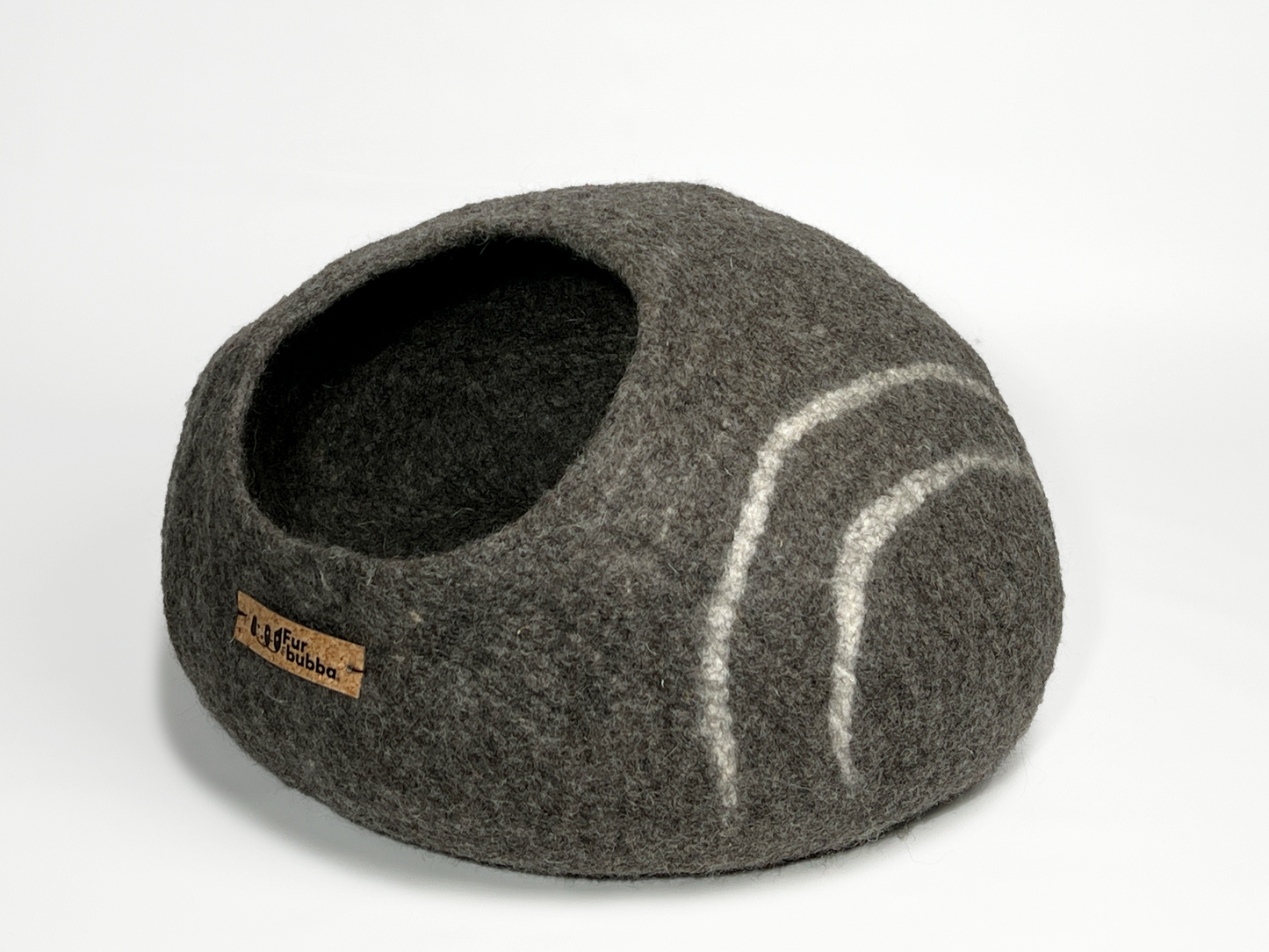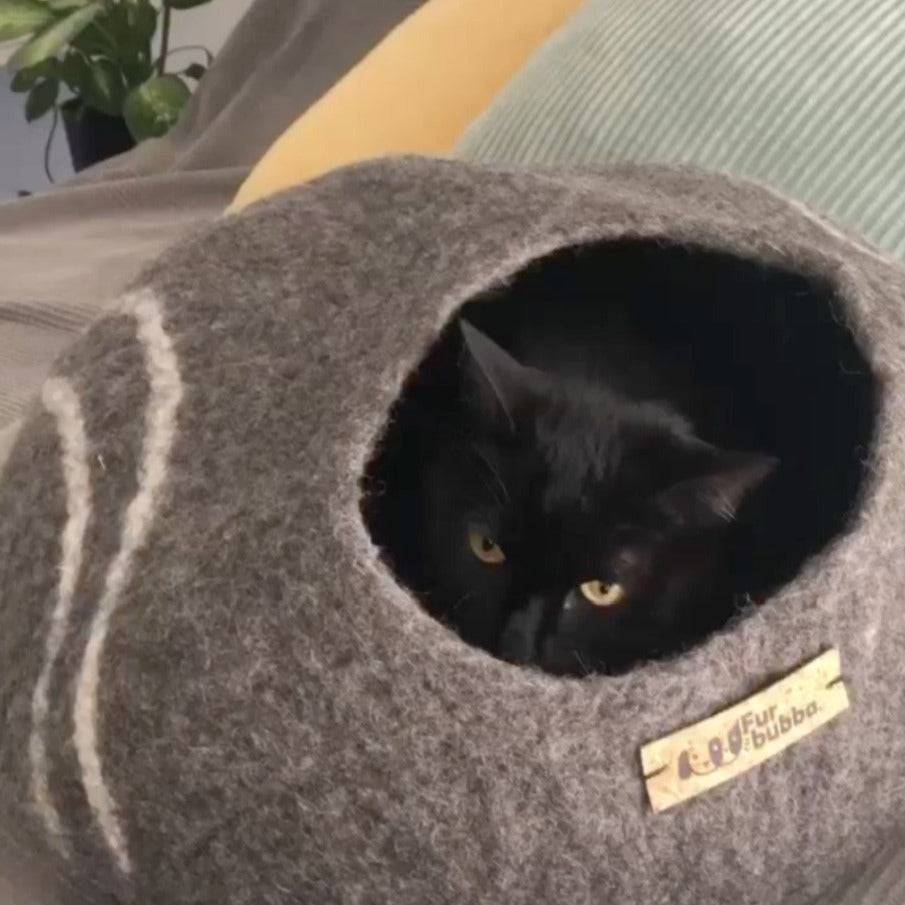 All the paws love it!
The story of this product appealed to me and I am really pleased with this beautiful cat bed. Our shy nervous cat Alfie is now happy in his new bed … previously spent a lot of time under my bed. I move it so he can watch out the window. Our other cats have all happily jumped in for an explore and would probably like one too! Only problem is that our dog likes it too and sits on top of it!
When l first received it l thought Casper's not going to like this but to my surprise yes it did take a bit but now he loves it he's rolled up snug as a bug in a rug
Cave
My rag doll loves the comfort and security in his new little house.
Cosy hideaway
Basil took a while to hop in as he wasn't sure about this new thing! Now he loves it when he wants to be left alone. Keeps him snug and warm at night in our freezing Tasmanian weather
Oscar's new man cave
Great fur cave for my 16 year old bengal, he loves his new hideout. As soon as it arrived he was in there.