Compostable & Biodegradable Dog Poop Bags (8 rolls - 120 bags)
Regular price
Sale price
$13.00 USD
Unit price
per
Share
Our dog is treated a little like royalty in our family - that's why his name is Sir Douglas Jaffa! But Doug (as he is more commonly known) is a bit of a pooper. 💩 And given that my husband has a yet-to-be-diagnosed clinical aversion to picking up dog poop, we needed a poop bag that was quick to open, easy to carry, and that you couldn't see through. But trying to be eco-friendly meant that we kept getting biodegradable bags that were so thin - they would rip when opened and even worst, they gave you a full view of Doug's business – which was never pretty. And I don't even want to mention the time down at the beach when leakage was involved! 🤮
So, when making dog poop bags for our family business, we had to make sure that were great for the earth but also passed the Doug test. We are proud to say that these bags are loved not only by us but also rated by professional poop scoopers (i.e. dog walkers).
That's why if you don't love them, let us know and we will give you a refund.
Need some more details? Here they are…
Furbubba is an Australian-owned small business with eco-conscious products that are designed to be best for pet, best for parent and best for planet.
💲 MULTI-BUY DISCOUNTS: Our discounts are automatically applied when you click the 'add to cart' button, VIEW YOUR CART to see these great savings...

Buy 2 - Save 10%
(Only $16.20 each+ FREE Shipping)
Buy 3 - Save 15%
(Only $15.30 each + FREE Shipping)
Buy 4 - Save 20%
(Only $14.40 each + FREE Shipping)
Each box contains 120 bags (8 rolls of 15 bags). Each bag is 320mm x 116mm. Do right by the planet and your wallet.
🌽 ECO-FRIENDLY: Zero-plastic, compostable dog poop bags made of cornstarch. Certified to DIN Home Compostable global standards, EN13432 & OK Compost TUV and Australian Compostability Standards AS 4736-2006. Proven as both home and industrial compostable within 180 days – not decades! Even our packaging is plastic free, the roll cores and our boxes are made from recycled cardboard.

💪 SUPER STRONG & OPAQUE: Extra thick 20-micron bags are the strongest on the market. Unscented & leak-proof, so no nasties are escaping. Black opaque design - let's face it, no one wants a see-through dog poop bag!
🙌 WITH HANDLES: Making them easy to tie and easy to carry.
✨ DESIGNED BY PET PARENTS: It's the little things like fitting all standard leash dispensers; you can tear each one without ripping the next bag; and yes, we tested it - you won't lose your first bag when removing the sticker!
🦘 AUSTRALIAN OWNED: Thank you for supporting our Australian family business.
🚚  SHIPPING: FREE SHIPPING on orders over $25. Otherwise, a $9 flat rate to anywhere in Australia. Dispatch Mon - Fri. Orders received before 1pm are dispatched same day.
--------------------------
What's the difference between biodegradable and compostable?
Well, most of the biodegradable dog poop bags on the market are still made of plastic and when they eventually degrade into the earth, they leave microplastics behind. However, certified compostable products are not only biodegradable, they have also been scientifically tested to break down in the presence of heat, moisture & micro-organisms to form compost.
Our bags are made of cornstarch (PLA) with an active ingredient (PBAT) which means once it is exposed to the right conditions it will degrade into water and carbon dioxide – so it will never choke drains or pollute the sea.
Dimensions

320mm long x 116mm wide

220mm wide when opened
Materials

Bags

- Corn starch

- Cardboard core

Box

- Cardboard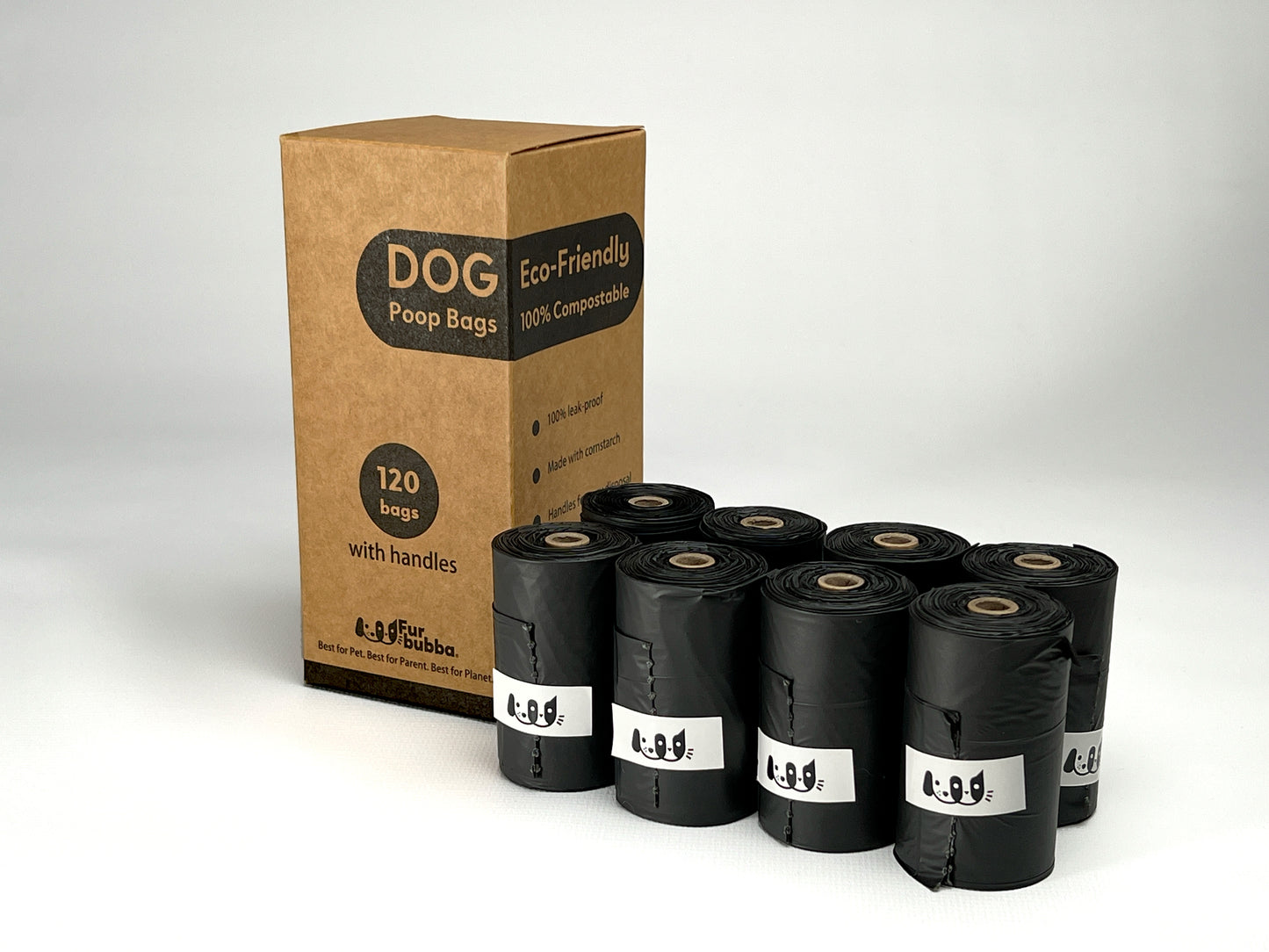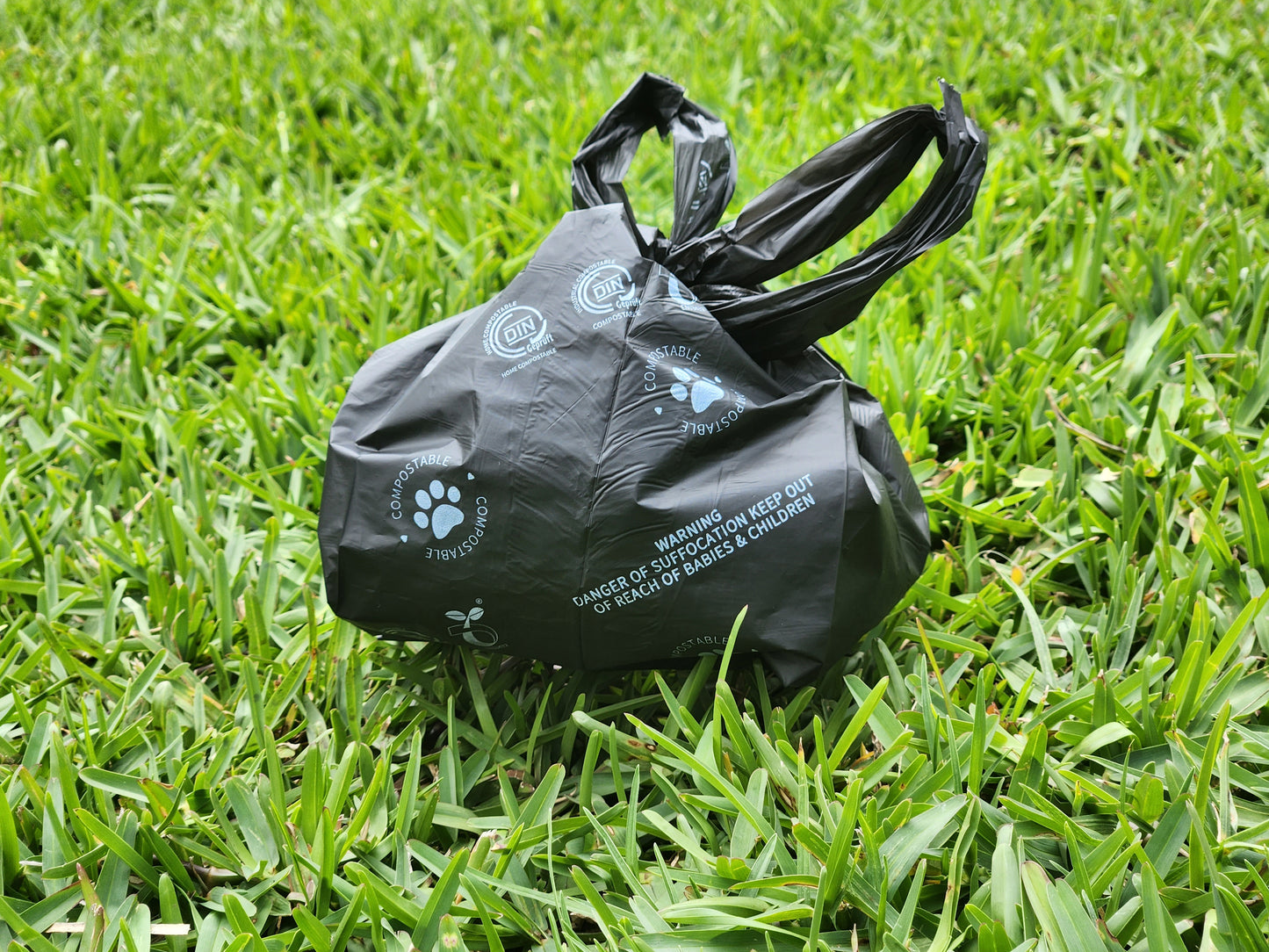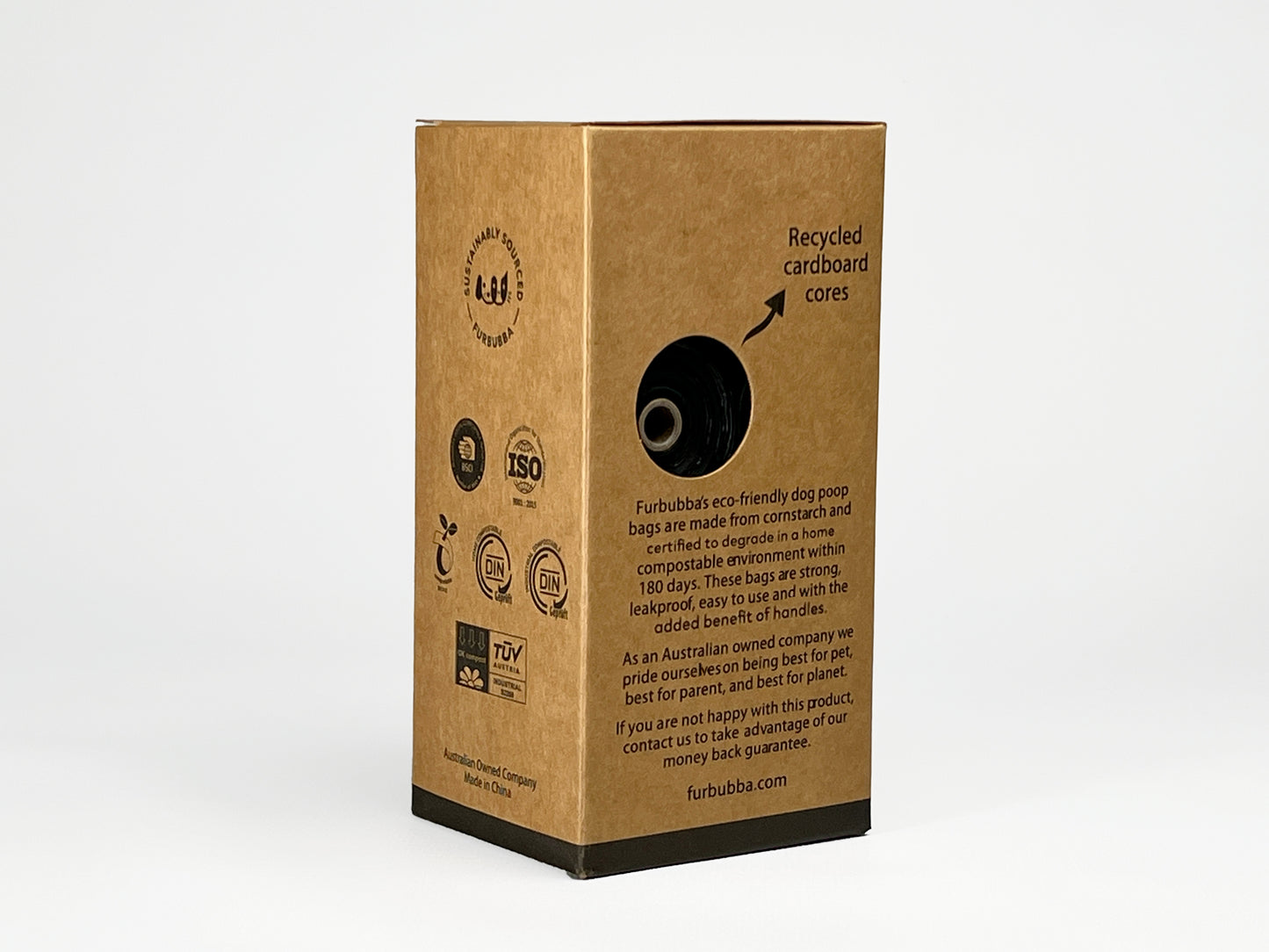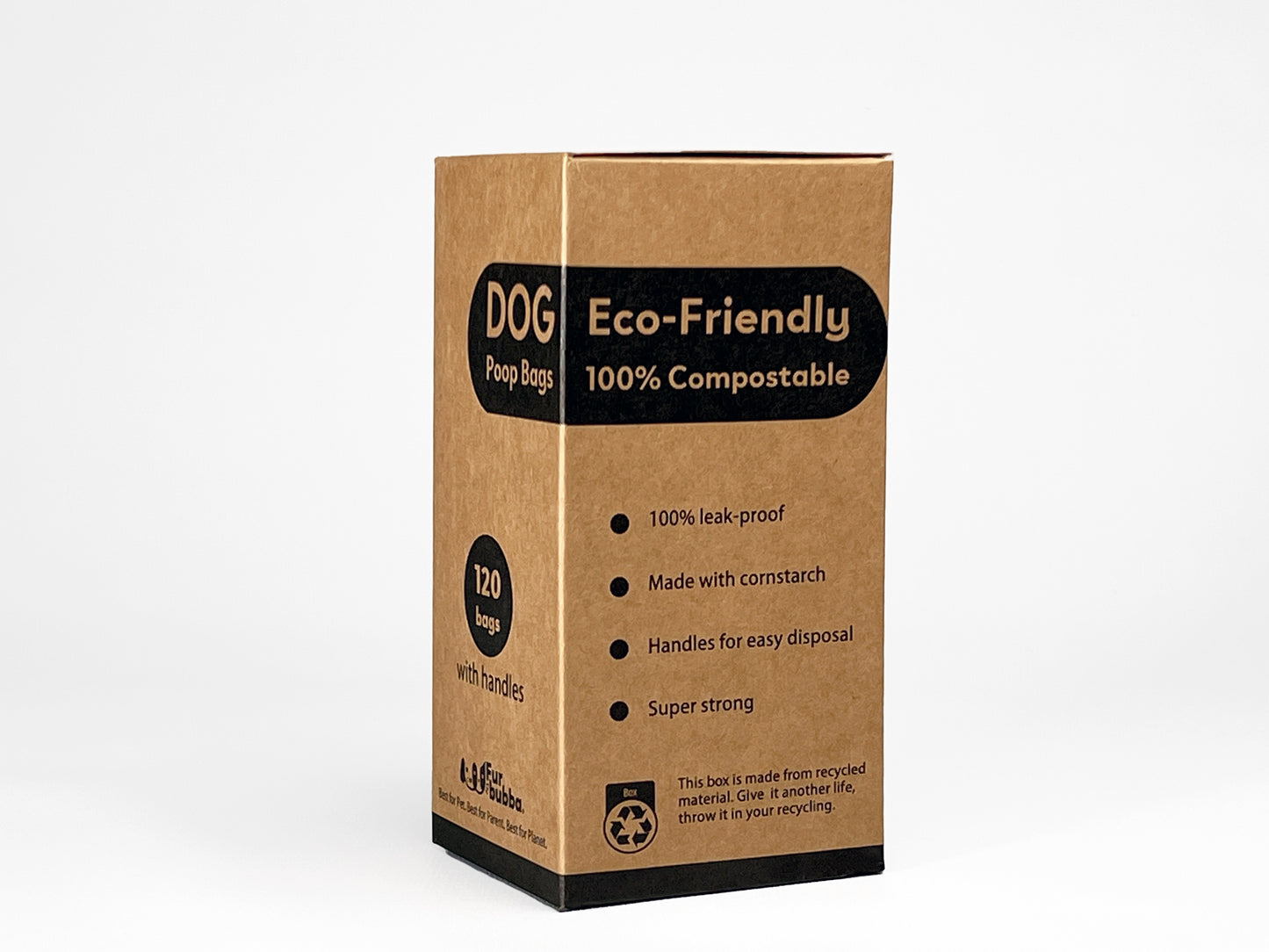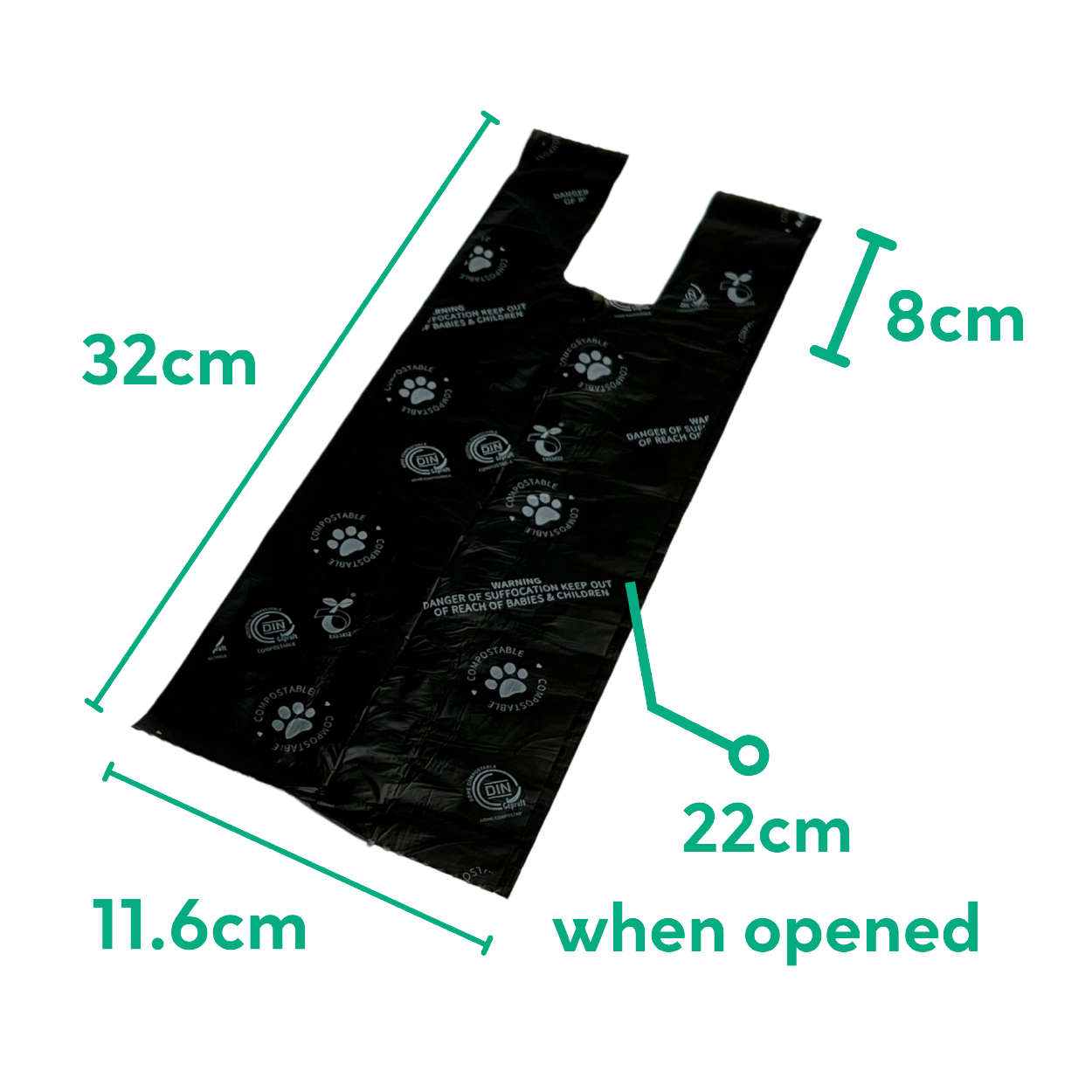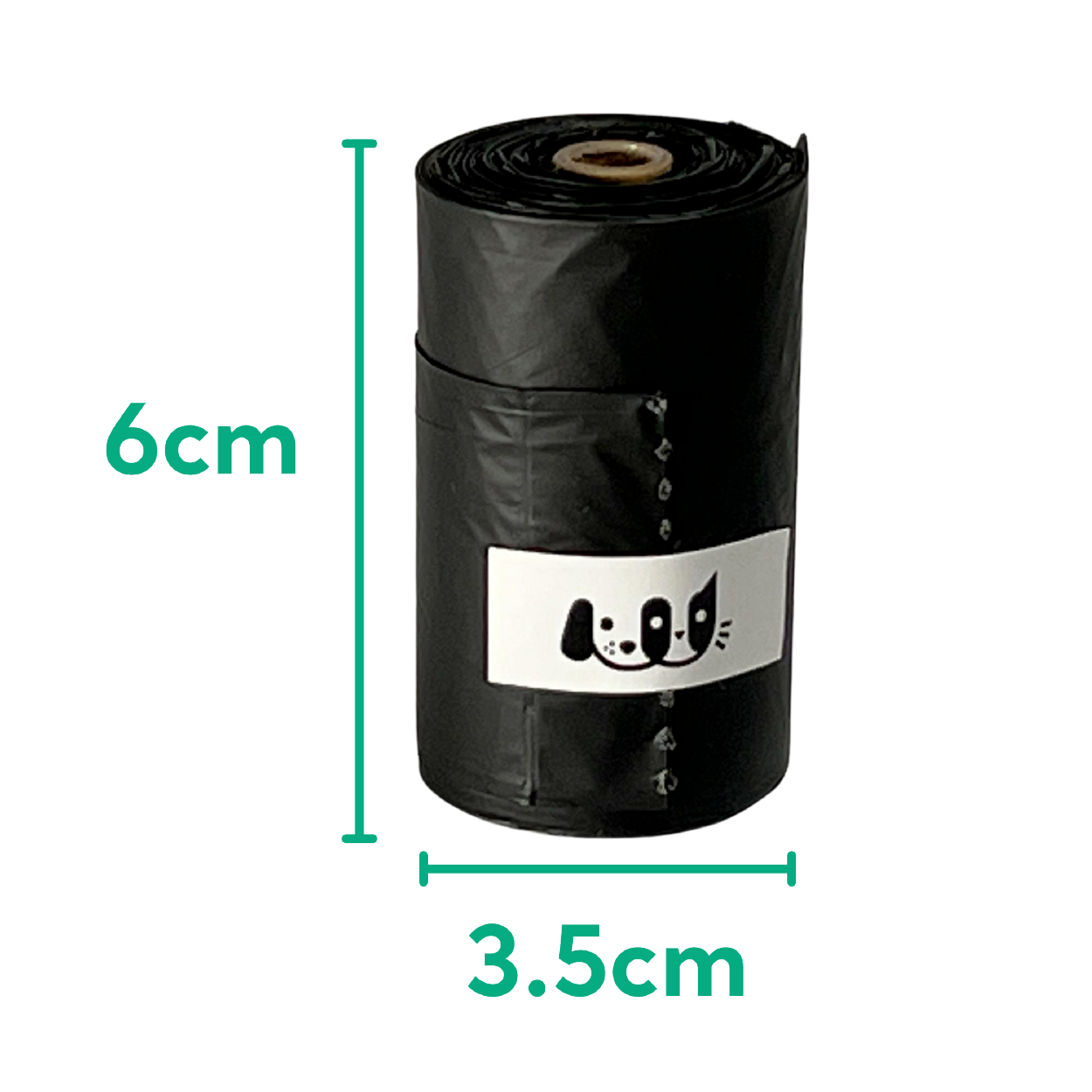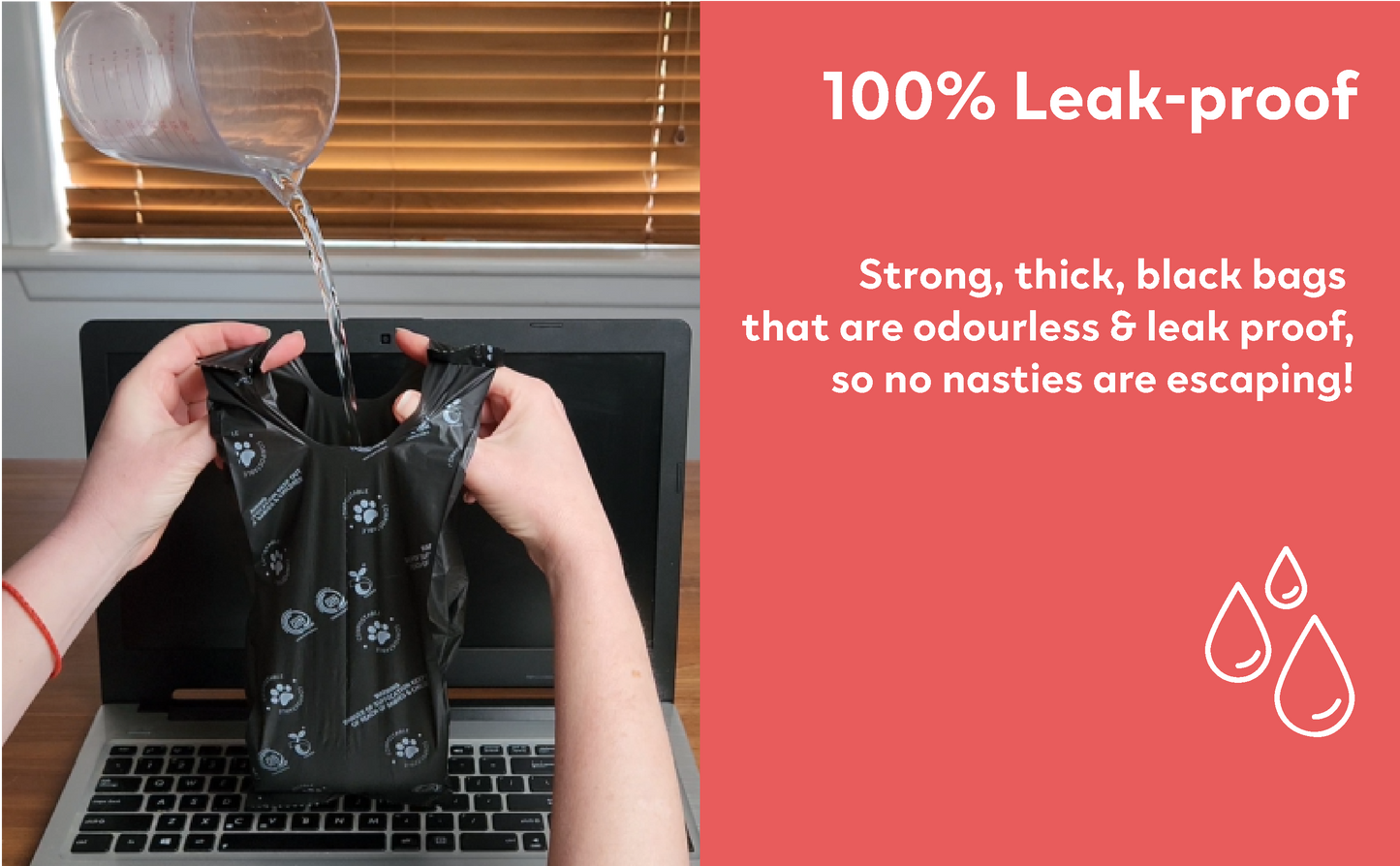 FURBALL
We have two Labradoodles, Frankie and Holly. Frankie is three and a half and Holly is ten months. If we had our time over again, we would have named Holly, "Shiva" after the Hindu god of destruction. For the time we have had Holly, she has left a trail of devastation: blankets, cushions, car upholstery, socks, tee shirts, furniture, skirting boards, cameras and most frequently, shoes, thongs (pink Haviannas particularly) and dog toys, even those labelled "indestructible". That is until be received a Furball. It has been over two weeks and the toy is still substantially intact (see image). This is been a record and the clock is still ticking. So well done , guys.
As for the Dog Poop Bags, the first half dozen or so kept splitting when trying to open up, but otherwise good with excellent delivery time and customer service.
LOL - Thanks for your great review, Phillip - Frankie & Holly are very cute and Holly sounds like she is a bundle of mischief! We are so glad the Dog Toy has stood up to her formidable standards, and proud that we have set a new record in your household. And the fact that these balls are biodegradable means Holly can go through a few of them in her puppy years without leaving a trail of plastic behind.
We appreciate your kind words about our customer service and delivery time for the Dog Poop Bags. However, we are truly sorry to hear that there were some quality issues. It's clear we've had a manufacturing hi-cup with a batch of our poop bags. We promise we are onto it with our supplier. However, we do offer a money- back guarantee, so we will send you an email with options for a second-chance discount code or refund.
We are keen to get another crack at impressing you and your fur-family. Thanks for sharing and your support in creating a cleaner, greener world.
Simone & John :)
Poo bag revire
I've been using Oh Crap bags and found them to be very good, but a bit pricey. I tried to reorder but found them to be out of stock of the pack size I was using.
So I found yours, the price was very good. So I tried them. I found them to be quite flimsy and prone to splitting when I open to insert my hand,
Great for the environment
Fast postage which was great.
They are thicker than other bags which is good, nice size and easy to tie.
I've had a couple split very easily so need to be careful when opening them.
Still stronger than other compostable bags I've tried though
Good size
I have a 60kg Bull Arab and we Ho thought a lot of bags.
The bags are a good size and stronger then I was expecting for combustible bags. Will be using from now on
Excellent quality
It's great not to have any residual smell. Also great to know they are ok for the environment. Every little bit helps.